Did you know that Verso International School Bangkok is one of the most progressive schools in Thailand? If you are a family living and working in Bangkok, it only makes sense to send your kid(s) to the best international schools in the city. And this is definitely what Verso is.
However, do you want to ensure that your kids have the simplest and most stress-free school life imaginable? If so, you will need to seriously consider finding the best properties to rent near Verso International School Bangkok that suits your budget, needs, and requirements. Here is an overview of the school so you know what you're dealing with, and also some recommendations for rental properties nearby the school.
Verso International School Bangkok Bio
Inspired by contemporary research in educational space design VERSO engaged IDEO to create a visionary blueprint for its conceptual and physical design. The inspirational design of its looped campus buildings in Bangkok and facilities redefines what an international school can be.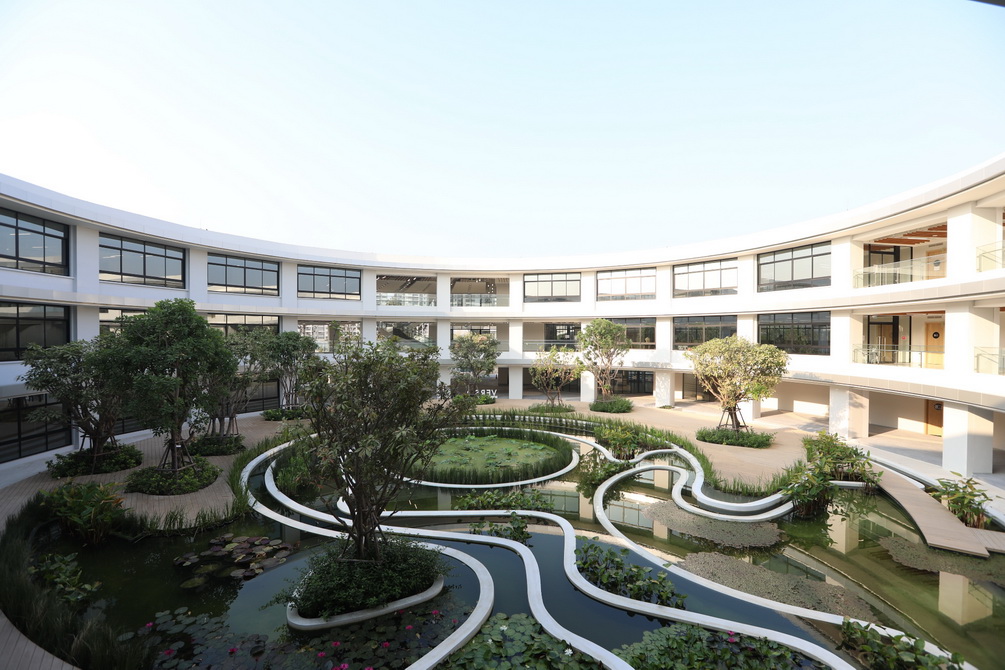 Verso International School Bangkok has positioned itself to be one of the world's leading schools in educational innovation and design. The facilities breathe life into the concept of 'limitless learning'. The spacious design and flow of the loops create an inspirational learning environment for students and teachers. Contemporary in design and feel, the flexibility of the educational spaces and the well-appointed facilities support a full range of learning activities, from individual projects to team-based activities.
The school's futuristic architecture and space designs offer students an inspirational learning environment. The school's state-of-the-art facilities have been designed to support VERSO's compelling vision for the future of learning. The campus represents an ecosystem that interconnects buildings and spaces with the natural landscape. Its design compliments VERSO's sense of flow and movement, creating an integrated and interdependent network of zones, levels, and spaces where learning is limitless.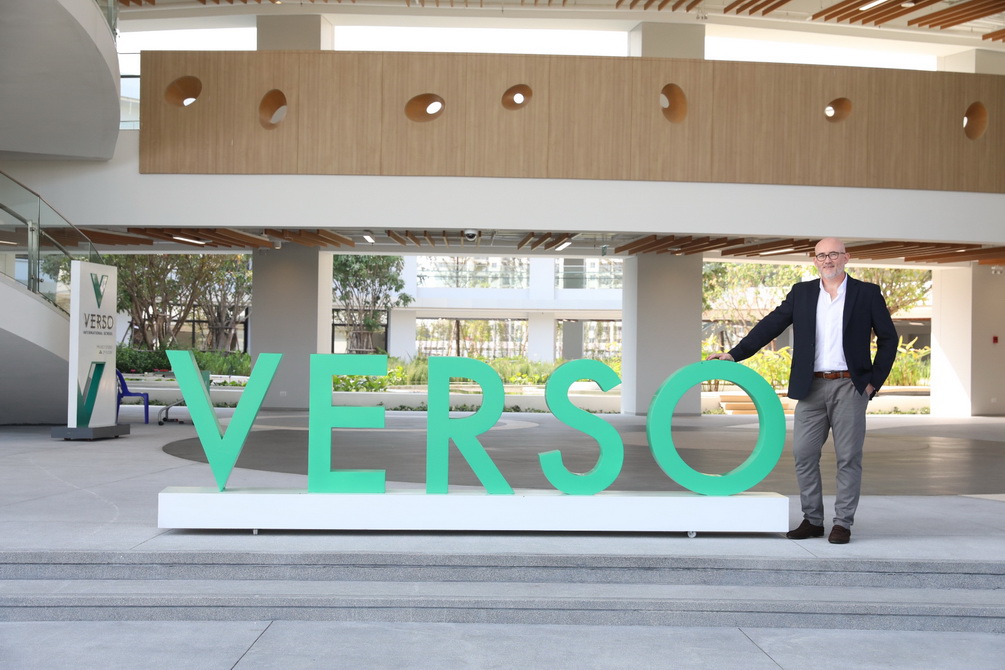 Prestigious Bangkok School
Verso International School Bangkok has an inspirational futuristic campus with uniquely designed looped buildings that offer a wide variety of flexible, agile, and innovative learning spaces for students and teachers. VERSO delivers world-class learning facilities that include:
Athletic Facilities
Olympic-size Swimming Pool
Junior Indoor Swimming Pool
A 1300-seat gymnasium and Fitness Center
Multi-Purpose Indoor Junior Gymnasium
1,000-Seater Indoor Arena
Full-Size Grass Soccer Pitch
All-Weather Multi-Purpose Training Pitch
Tennis Courts
Basketball Courts
Specialist Learning Facilities
Multimedia Suite
Band Room
Dance Studio
Game Design Studio
Maker Labs and Fabrication Studios
Science Labs
Visual Art Studios
Community Facilities
Full-School Cafeteria and Dining Facility
Parents Lounge & Co-working Space
Medical Clinic
The school has some of the best international facilities and learning options for the modern Western family of today living in Bangkok. It's important to give your kids the best education possible. And if you are currently living in Bangkok with your family and kids and want to prepare them for international schooling, Verso is a great choice. However, you also need to consider your house rental options near to the school.
Properties for Rent Near Verso International School Bangkok
At Hero Realtor, we have a great handpicked selection of properties for rent near Verso International School, and lots of other international schools. The school is located in the rapidly growing Bangna District in Thana City. Bangna is an established neighborhood and a well-integrated community, known for its expansive developments including retail, residential projects, shopping malls, and prestigious international schools.
The American international school campus in Samut Prakarn is just east of Mega Bangna Shopping Center and offers easy access to the expressway and several public transit systems. VERSO international school in Bangkok is also conveniently located near Suvarnabhumi Airport (15-minute drive) and is positioned to become a global hub and preferred choice for students choosing to study in an international school in Thailand.
Ensuring that your family is happy is always of the utmost importance. Especially if you have children, and especially if you are a foreign expat family living and working in Bangkok. You must make it easy for your family when you are out at work. Living near the school is one way to simplify your home life.
For more details about Bangkok international schools, you can click here. If you have any inquiries regarding the above-mentioned properties for rent, you can email us directly at contact@herorealtor.com. You can also click here to see more Bangkok rental options.