If I had to choose an area to live in Bangkok, it is quite a difficult choice. There are so many fantastic yet busy areas in this sprawling metropolis. However, if you choose the wrong place to live in Bangkok, it can be a nightmare getting around or even finding Western-style facilities, restaurants, shopping options, and so forth.
This stunning HQ by Sansiri development has long been regarded as one of Bangkok's best. And this is largely due to its central location at Thong Lo, and its proximity to lots of parks, nightlife options, and shopping centers. And if you know anything about Sansiri, you will also understand the quality on offer. So, before we delve deep into the development's room types, onsite facilities, and location, maybe we need to learn more about the developers and the resort overview.
The development was constructed in December 2013 and has a total of 197 units set over 36 floors. This classy project was built by Sansiri, which is a company that is known for constructing other Bangkok developments such as The Line Phahonyothin, The Base Phetchaburi-Thonglor, XT Phayathai, and many more.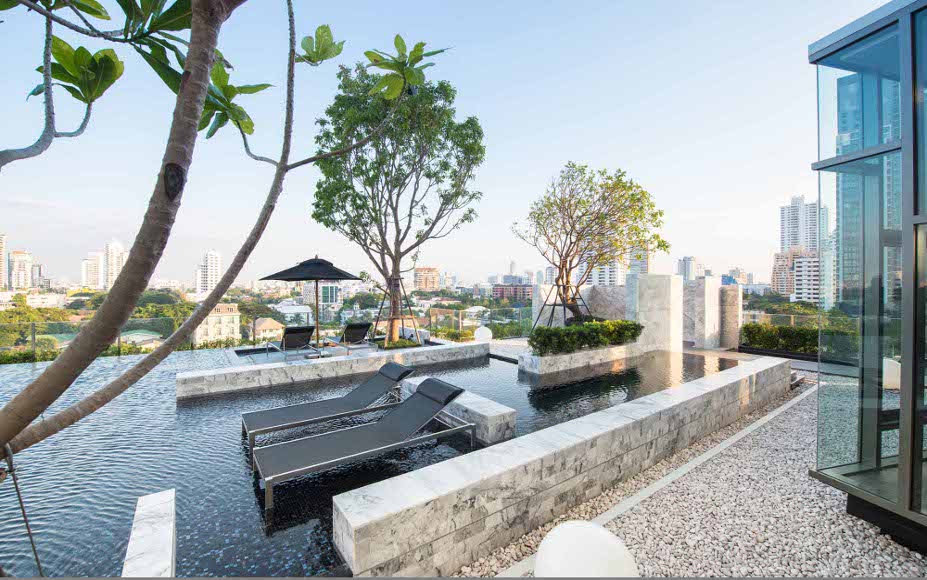 About HQ by Sansiri
HQ By Sansiri is a great place to live in the heart of Thonglor, which is an area that is growing in popularity. Nearby you will find lots of cool bars, cafes and coffee shops, office buildings, and The EmQuartier and The Emporium. The development is situated just 800 meters from the Thonglor BTS station for easy convenience.
Project Information
This stylish high-rise project is set over a large area and combines lots of great facilities with a great choice of units for both sale and rent. Here are some of the room types and onsite facilities on offer.
Room Types and Details
– 1 Bedroom (40.50-55.50 sq.m)
– 2 Bedrooms (72-99 sq.m)
– Duplex (75.50-80.50 sq.m)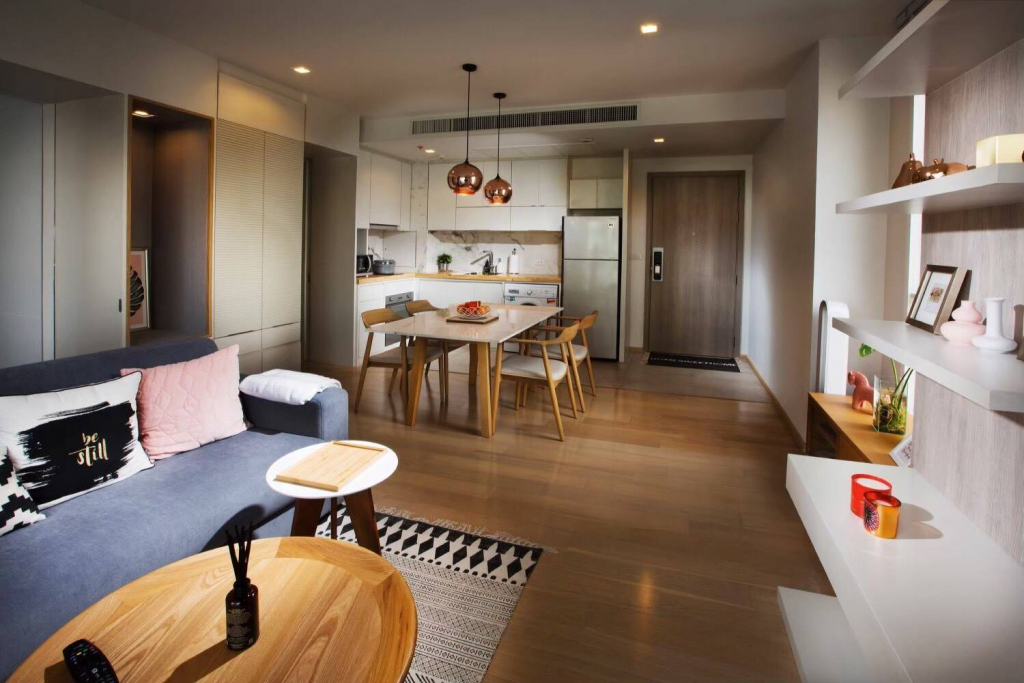 Project Facilities
– Lobby
– Reception
– Fitness Center
– Sauna Room
– Sky Pool
– Mailroom
– Library
– Car Parking
– 3 Passenger Lifts
– 1 Service Lift
– CCTV
– 24 hours of Security System
– One Card Access system
– Shuttle Bus to Thong Lo BTS station
Should I Buy and Rent at HQ by Sansiri?
If you are looking for a modern and affordable Bangkok condo in a central location at Thonglor, the answer is most definitely YES! Not only are the apartments modern and stylish, but the choice of onsite facilities is simply stunning. This development is similar to living in a top-notch Bangkok hotel in terms of facilities while having the privacy of your own condo. This is why many ex-pats and affluent Thais like to live at places like HQ by Sansiri.
If you are looking to buy a centrally located condo in Bangkok, you can click here to see a great selection of HQ by Sansiri condos for sale.
Alternatively, if you are deciding to rent instead of buy, you can click here to find an affordable choice of HQ by Sansiri condos for rent at this stunning development.
Thonglor is one of the most central and popular areas to live in Bangkok. It's not too far from the business district and is home to some fantastic bars and restaurants. Shopping options, hospitals, and international schools are all nearby, so if you are a family looking for a prime location, Thong Lo is perfect. Click here to check out our Thonglor Property Destination Guide which gives you the full rundown of the area and even some viable condos for rent and sale in Thong Lo.
Aside from that, if you have any other questions about living in Thong Lor or finding properties here, you can email us directly.