It's a great time to find affordable business opportunities in Bangkok post-COVID-19. Unfortunately, some businesses have struggled to survive the pandemic, but the plus-side is we are starting to see lots of business premises for sale or rent in Bangkok at the moment.
If you want to push the boat out to try something different, we have this interesting Bangkok hostel for sale, which represents a unique business opportunity. This is your chance to take advantage of this buyer's market we are experiencing.
Spacious Boutique Bangkok Hostel for Sale or Rent
Type: Shophouse/Boutique Hostel
Size: 239sqm
Location: Silom, Bangkok
Sale Price: 12.5 million THB
Rental Price: 70k THB per month
This stunning shophouse was remodeled into a boutique hostel for sale or rent. It's a leasehold property with the current lease expiring in 2035. This is the perfect time to buy or rent this boutique hostel, especially at the moment just before Thailand starts letting tourists back in.
Even if you don't want to buy at this moment, the monthly rental price is 70k per month, which is ideal when you consider how much you can make back per month renting the rooms out to tourists.
Chic Interior Design Values – Bangkok Hostel for Sale
There is a selection of modernly designed rooms that include singles, doubles, and dorms with several bunk beds. You really can maximize the profits in a place like this. And the best part is that the re-designed and remodeled interior designs give the place a modern chic that you wouldn't expect from a hostel. Not the usual type of Bangkok hostel that is!
The remodeling of the rooms and the stunning design values really does make this place attractive to customers and potential buyers alike. It might be worth buying this property with the view to rent it on to someone else when the tourism market recovers in 2021.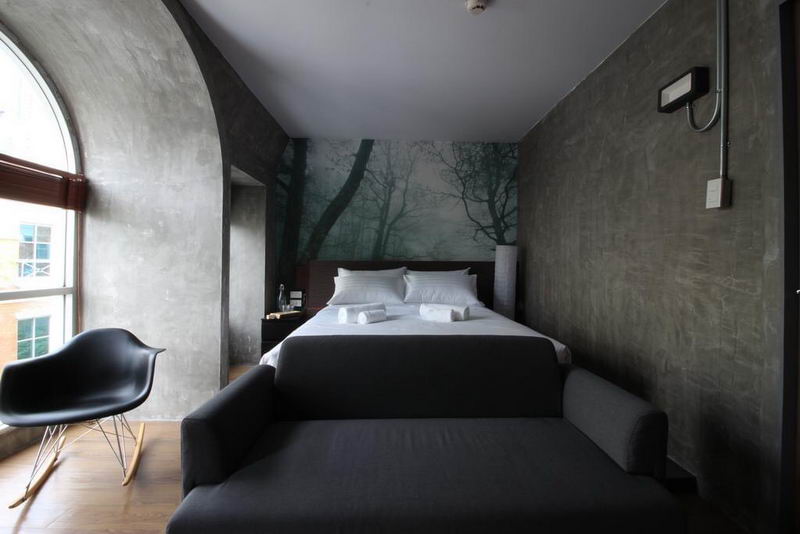 Centrally Located Bangkok Hostel
One of the key sales factors of this remodeled shophouse is its central location, which is ideal for a hostel or hotel premises. The shophouse is located in Silom, near BTS Chong Nonsi, and MRT Si Lom Bang Rak.
If you were going to choose a location for a hostel, this would be it. You might even get some walk-in customers due to the nature of the location.
Bangkok Hostel for Sale
Although renting this shophouse is a viable option, the sales price is very attractive and affordable. This Bangkok hostel is for sale for only 12.5m THB, which is a great deal. Especially considering this is a business that has a viable avenue for making back returns on your investment.
If you want to find out more about this property, you can contact us directly via the website. We can even take you to view the building so you can get a real feel for it. If you want to see the full listing with photos and more details, you can click here.
If you are looking for some other Bangkok warehouse and factory sale and rental options, please click here. At Hero Realtor, we have lots of commercial property options. If you have anything specific you would like, you can also contact us directly.