Finding the best pet-friendly properties in Bangkok for rent can be a difficult and time-consuming venture. Anyone who has a pet will inform you that they are akin to another family member. We love our pets the same way we love best friends. But most landlords and property owners do not share our love for pets.
Most condominium buildings in Bangkok have a 'no pet' policy, which means that people with pets who are looking to rent condos and villas in the city have limited options. At Hero Realtor, we have lots of pet-friendly properties for rent in Bangkok. But let's firstly let's talk more about the issues pet owners in Bangkok have finding properties.
Why do most Bangkok Condo Developments have No-Pet Policies?
The harsh reality is that the majority of Bangkok condo developments have a no-pet policy, but why? This philosophy is common sense when you think about it. Developers believe that pets can cause hassle in buildings where the apartments are at close quarters.
The no-pet policy is supposedly about keeping the development clean with less noise and dirt. Damage to the property's fixtures and fittings is also another concern when renting condos to pet lovers. But a pet is only as clean or as dirty as its owner!
We suppose it makes sense to try and protect the development and the people who live there, but pet owners need viable rental properties in Bangkok too! Fortunately for you, there are some cool pet-friendly Bangkok condo developments. And at Hero Realtor, we also have pet-friendly Bangkok properties for rent.

Pet-Friendly Bangkok Condo Developments
Although most developments in Bangkok have a no-pet policy, there is a handful of development that do accept pet owners. If you are currently looking to move to a new condo but are struggling to find developments that accept pets, here is a list of some developments that do:
This is just an overview of a few of the developments that have a pet-friendly policy. If you want to find a Bangkok condo rental in one of these developments, please email us with your inquiries. We do have some pet-friendly properties for rent in the Aguston Sukhumvit 22 Residence. Click below here to see them.
Aguston Sukhumvit 22 Pet-Friendly rentals
And here are a few links to pet-friendly condos in the Aguston Sukhumvit 22 development:
Large 3-Bedroom Aguston Bangkok Condo for rent.
Affordable 2-Bedroom Bangkok Condo for rent.
Cozy 1-Bedroom Bangkok Aguston Condo for rent.
Value for money 1-Bedroom Condo for rent at Bangkok Aguston.
Ultra-Modern 1-Bed Bangkok Condo for rent.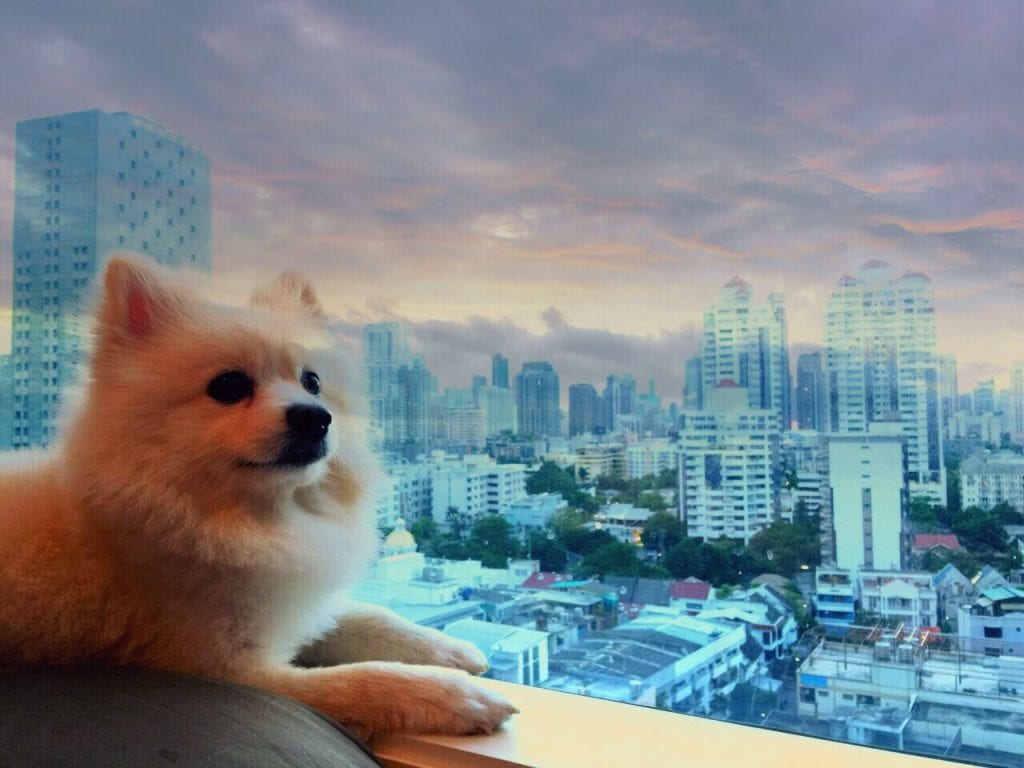 Pet-Friendly Bangkok Houses for Rent
Now we understand that although Bangkok might not be the best place for pet-friendly condo rentals, we have found many developments that have pet-friendly policies. If you want something more solid, something that you could rent today, we have some great Bangkok house and villa rental options.
Having pets is more conducive to renting a house instead of a condo. Condo developments have limited space and facilities for pet owners. Houses are always the best options for pet owners who want to give their pets lots of space and a comfortable lifestyle.
Check out this handpicked selection of pet-friendly Bangkok houses for rent. You can click on the links to see the full property listings with more details and prices.
Ultra-Modern 3-Bedroom Bangkok House for rent at Bang Kapi.
Modern 4-Bedroom Bang Kapi Bangkok House for rent.
Bangkok 4-Bedroom House for rent in a prime location.
3-Bedroom Samut Prakan Detached House for rent.
Modern 4-Bedroom House for rent and sale at Bang Kapi.
Stylish 3-Bedroom Bangkok Villa for rent or sale at Bang Kapi.
To see a full list of pet-friendly rental properties in Bangkok, PLEASE CLICK HERE!
Finding Pet-Friendly Bangkok Rental Properties
As you can see, there are more pet-friendly Bangkok condo developments and house out there than you would imagine. People will tell you that you have very limited options as a pet owner in Bangkok, but it's just not true. There are several developments that accept pets and loads of house options.
If you haven't found a viable pet-friendly Bangkok condo or house to rent from the options above, let us know. You can email us at contact@herorealtor.com. We can work together with you to find a pet-friendly Bangkok rental home that suits your needs, location, budget, and of course, your pet!
At Hero Realtor Bangkok, we already know how much your pet means to you and/or your family. They are family! And we understand that more than most Bangkok real estate companies. Finding the best pet-friendly properties in Bangkok for both rent and sale can be difficult. But we are here to help you guys every step of the way.