The real estate market is a dynamic realm where investors seek lucrative opportunities to secure their financial future. Among the emerging markets, the appeal of Bangna real estate in Thailand has garnered substantial attention. This article delves into the unique benefits of investing in Bangna real estate, highlighting the factors that make this area a promising destination for both homeowners and real estate investors.
Let's take a look at why Bangna is considered a very convenient and smart location choice for hose looking to live on the outskirts of Bangkok.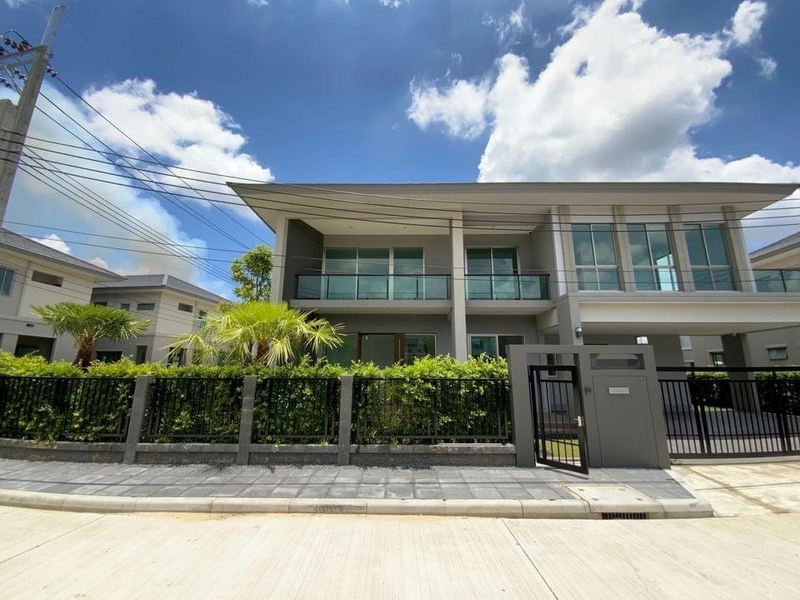 Bangna is a Strategic Location
One of the most compelling advantages of buying houses in Bangna is its strategic location. Situated on the outskirts of Bangkok, Bangna enjoys a prime position that offers a harmonious blend of urban convenience and serene suburban living.
The proximity to the bustling city center and the Suvarnabhumi Airport enhances the accessibility of the area, making it an attractive choice for homeowners and tenants alike. With well-connected roads and efficient public transportation, residents can enjoy the convenience of accessing both work and leisure destinations.
Booming Infrastructure
Bangna has undergone a significant transformation in terms of infrastructure development. This area has seen the construction of modern road networks, expressways, and mass transit systems that have considerably reduced commuting times and improved connectivity. The Bangna-Trad Road, for instance, has not only facilitated transportation but has also attracted various businesses and commercial establishments to the region. This growth in infrastructure bolsters property values and ensures a promising investment landscape.
Bangna and It's Thriving Commercial Hubs
Investing in Bangna houses means being in close proximity to thriving commercial hubs. The Bangna area is home to numerous shopping complexes, entertainment centers, and business districts. The Bangkok International Trade and Exhibition Centre (BITEC) is a prominent example, hosting international events, exhibitions, and conferences that attract both domestic and international visitors. This bustling commercial environment not only enhances the quality of life for residents but also ensures a steady flow of rental demand, making Bangna houses an appealing option for investors.
Serene Environment
Despite its proximity to urban amenities, Bangna manages to maintain a serene and tranquil environment. The area's residential neighborhoods offer a reprieve from the fast-paced city life, providing residents with a peaceful retreat to call home. The abundance of green spaces, parks, and recreational areas creates a harmonious balance between nature and urban living. This aspect appeals to families, professionals, and retirees who seek a quiet and comfortable lifestyle without sacrificing convenience.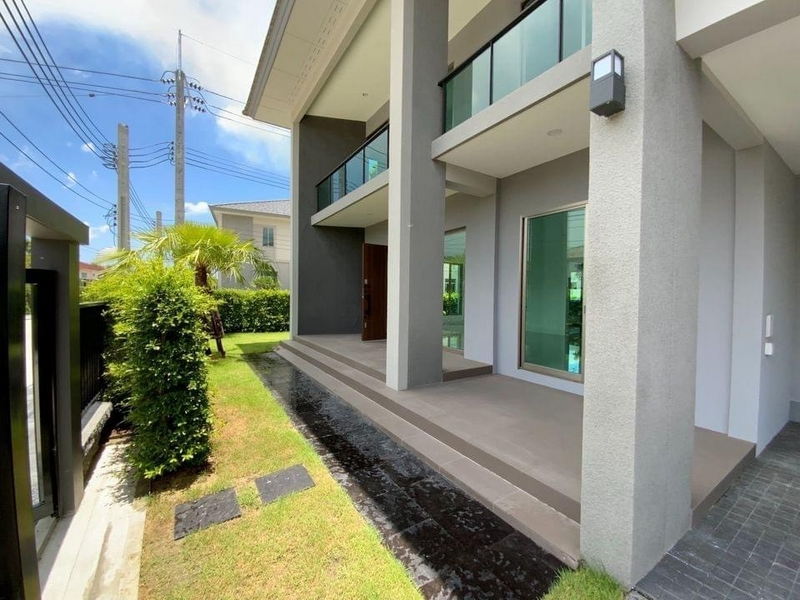 Diverse Property Options
Bangna houses offer a diverse range of property options to cater to various preferences and budgets. From modern condominiums and townhouses to luxurious single-family homes, the real estate market in Bangna accommodates a wide spectrum of buyers. This diversity ensures that investors have the flexibility to choose properties that align with their investment goals, whether it's long-term rental income or capital appreciation.
Favorable Investment Climate
Thailand's real estate market has gained significant attention from international investors due to its favorable investment climate. The Thai government has introduced various policies and incentives to encourage foreign investment, making it easier for non-residents to purchase and own property in the country. Additionally, the potential for steady rental income, coupled with the prospect of capital appreciation, adds to the allure of investing in Bangna houses.
Potential for Appreciation
Over the years, Bangna has witnessed a consistent increase in property values. The combination of strategic location, infrastructure development, and growing commercial activities has contributed to the appreciation of real estate prices in the area. This trend presents an enticing opportunity for investors to capitalize on potential gains over the long term.
Investing in Bangna houses presents a host of unique benefits that make this area a compelling destination for both homeowners and real estate investors. From its strategic location and booming infrastructure to the thriving commercial hubs and serene environment, Bangna offers a harmonious blend of urban convenience and suburban tranquility. With a diverse range of property options and a favorable investment climate, this emerging market holds the promise of significant returns, making it a wise choice for those seeking to secure their financial future through real estate.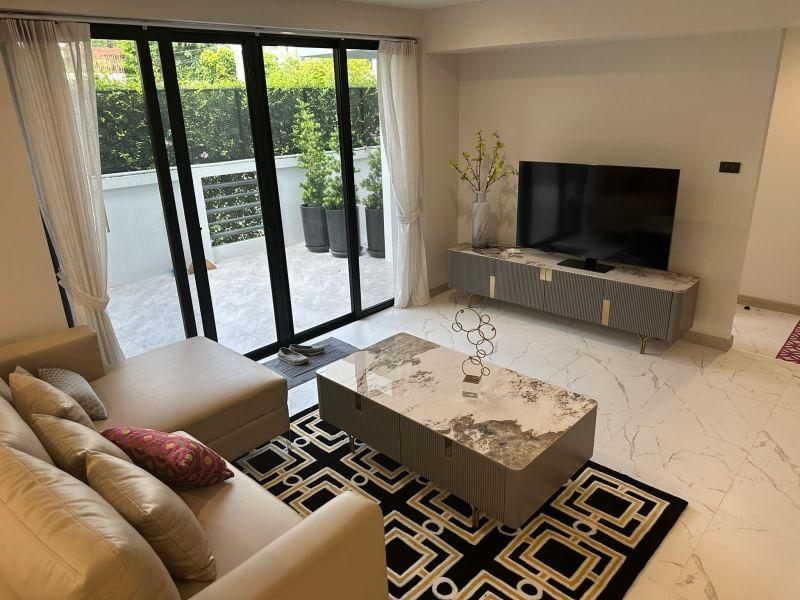 Finding Bangna Real Estate with Hero Realtor
Finding the perfect Bangna real estate through Hero Realtor Bangkok offers an array of opportunities for both seasoned investors and new homebuyers. Nestled within the vibrant heart of Bangkok, the Bangna district is renowned for its modernity, excellent connectivity, and diverse lifestyle offerings.
Hero Realtor Bangkok stands as a trusted guide in navigating this dynamic real estate landscape. With their in-depth knowledge of the local market trends and an extensive network, they provide a personalized approach to finding the ideal property. From luxurious condominiums boasting breathtaking skyline views to spacious family homes with lush gardens, the options are diverse.
The Bangna area itself presents a fusion of urban conveniences and natural beauty. Prospective residents can relish in the proximity to shopping extravaganzas like Mega Bangna, while also enjoying the tranquility of Bangna-Trad Greenery Park. Connectivity is a breeze with the Bang Na BTS station and easy access to major highways.
Please click here to see a handpicked selection of Bangna Condos for sale and click here to find some fantastic Bangna condos for sale. If you prefer to rent instead of buy, we also have some classy Bangna houses for rent here and Bangna houses for sale here.
Here are some links to Bangna properties for sale and/or rent that you cannot afford to miss:
For Sale Samut Prakan Single House Lake Legend Bangna-Suvarnabhumi Bangna – Suvarnabhumi Bang Phli BRE18310
For Sale Bangkok Single House Grand Bangkok Boulevard Bangna-Onnut Sukhaphiban 2 Prawet BRE18520
For Sale and Rent Samut Prakan Single House Narasiri Bangna Bangna KM 10 Bang Phli BRE18944
For Sale Bangkok Single House The Grand Bangna Wongwaen Kanchanaphisek Road Prawet BRE5172
For Sale Samut Prakan Single House The City Bangna Bangna Trad Bang Phli BRE18786
For Sale Samut Prakan Single House Centro Bangna Kanchanaphisek Bang Phli BRE18348
For Sale Samut Prakan Single House The City Bangna Kanchanaphisek Bang Phli BRE18358
Hero Realtor Bangkok's commitment to client satisfaction is evident in their transparent dealings and tailored property recommendations. With our assistance, discovering Bangna real estate gems becomes an exciting journey, matching individual preferences with the perfect abode. Whether one seeks a bustling urban nest or a peaceful suburban retreat, Hero Realtor Bangkok is the gateway to exceptional Bangna real estate ventures.