When you are seeking a centrally located Bangkok office space for rent or sale, we have this super-convenient property in an amazing location near the EmQuartier and BTS Phrom Phong.
If you have a business in the city or are wishing to relocate to Bangkok, you need to seriously consider this Bangkok office space. We are currently seeing some great deals appear in the marketplace as the Bangkok business sector resets post-COVID.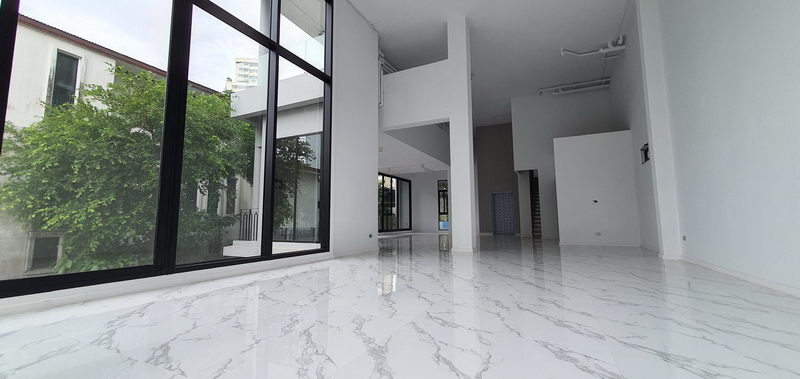 Spacious Bangkok Office Building Available
Type: Office Building
Size: 930sqm
Location: Bangkok, Phrom Phong
Sale Price: 210 million THB
Rental Price: 350k THB per month
This large and spacious Bangkok office building sits in a very central location between the DoubleTree Hilton Bangkok Hotel and the EmQuartier. The building is set over 2 ½ floors and is a total size of 930sqm.
There are several office areas in the building with individual rooms and even larger communal office space. If you are a medium-sized e-commerce firm, this could be your perfect office building. Especially with the location in mind.
The interior is very light, spacious, and open-plan. There are tall floor-to-ceiling windows that let in lots of natural light, which is important in an office and business-like environment.
If you did decide to purchase the property, there could be enough space to split the building into spate office spaces and to rent them out separately to make back rental retunes. There are many options when purchasing this building.
Centrally Located Bangkok Office Space
Location is always important. Even if you're not a walk-in business. This primly located property is situated near Sukhumvit Soi 39, and just a short walk from major Hilton hotels and the EmQuartier with its ultra-modern shopping options. It is a vibrant place to have an office. It's ideal for team-building dinners and evenings.
The office is also situated close to major transportation networks such as the BTS Phrom Phong Station. It really is easy to get in and out of this area with public transport. Some might say this is one of the most convenient locations in the city for an office.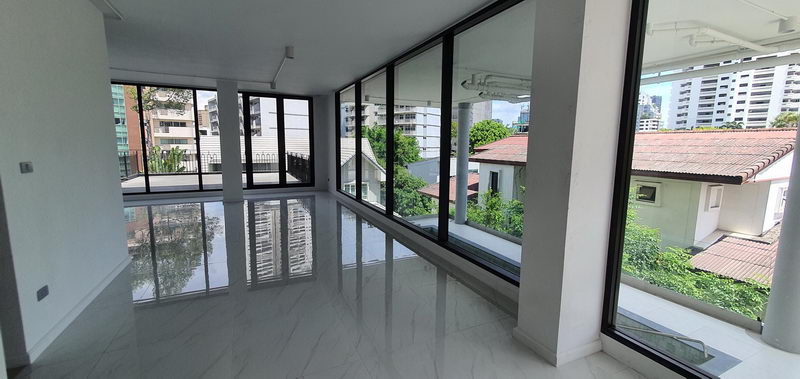 Buy or Renting Bangkok Office Space
There are both options to rent or buy this premium Bangkok office building. And because of the location, the prices are not cheap. But the location is one of the best you will find. Although renting gives you the flexibility, buying the property could be a shrewd investment for the future. Especially with this area enjoying rapid growth in terms of modern development.
You can see the full listing for this fantastic Bangkok office space opportunity. We have a full selection of photos for you to peruse and more details on the location.
At Hero Realtor, we have a stunning selection of hand-picked commercial properties for sale and rent to suit your budget. Please feel free to email or call us directly to make any inquires. Our team of property experts is waiting for your call.
You can also click here to see some more factories and shophouses we currently have on the website for rent and sale.